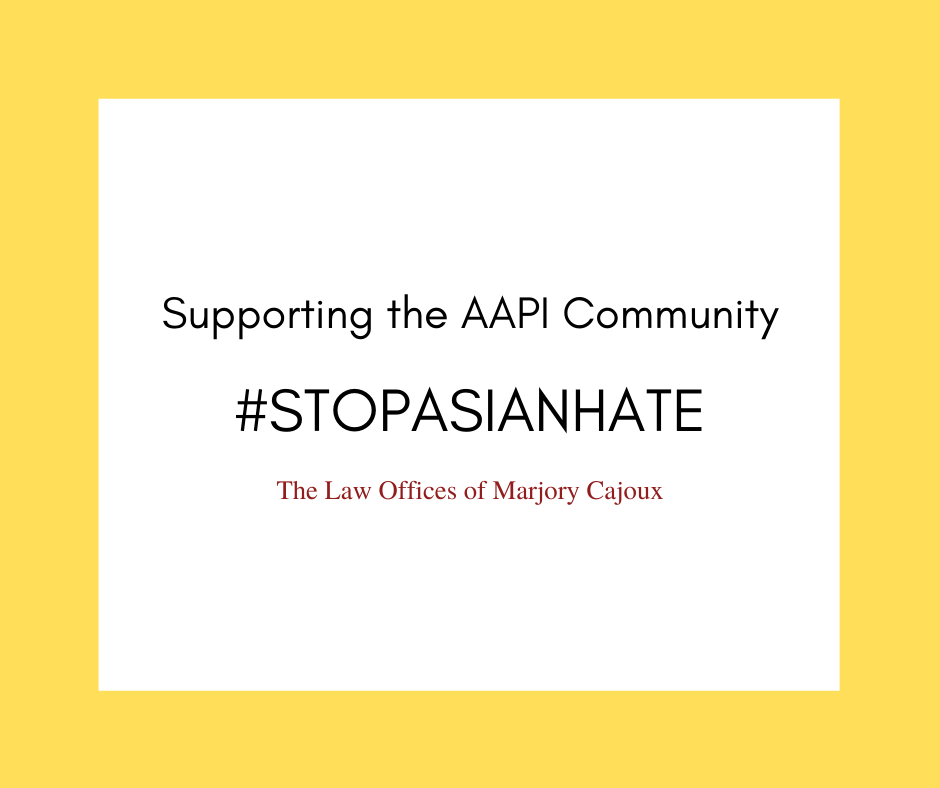 "Darkness cannot drive out darkness; only light can do that. Hate cannot drive out hate; only love can do that." – Martin Luther King Jr.
In recent weeks Asian American Pacific Islander ("AAPI") communities across America have been reeling from the uptick in discrimination, hate crimes, and unprovoked attacks spurred by racist ideology about the coronavirus pandemic. Last year alone, those identifying as AAPI as well as the group Stop AAPI hate recorded at least 3,795 reported incidents. We stand in solidarity with advocates and civil rights leaders within and outside of the AAPI community fighting against all forms of hate and hate crimes including those relating to theories about the origins of COVID-19.
Two recent and reported violent attacks occurred in New York City, an elderly Asian American woman was brutally beaten by a man who repeatedly kicked her in front of witnesses. The witnesses stood by in front of a building owned and managed by a prominent property developer and management. The property management company was aware of the incident and the staff who witnessed the account were suspended and are currently pending an investigation. The second most recent attack involved two men that physically assaulted an Asian person on a Manhattan-bound J train, one of them was caught on camera trying to choke the individual.
While the aforementioned events are indeed disturbing communities of color and certain religious sects have been under extreme attack in recent years: a church shooting in Charleston, South Carolina (2015); a Pulse Night Club shooting in South Florida (2016), shooting death of Iman Maulama Akonjee a prominent Muslim cleric in Queens, New York (2016); shooting at a prominent Jewish synagogue in Pittsburgh, Pennsylvania (2018); deaths of countless unarmed men and women at the hands of the Police and now these most recent incidents of hate in AAPI communities. These most recent events narrate the need for a larger dialogue on the malevolence of hate which is an assault on our nation and a violation of our very humanity. Unfortunately, when the nation tries to come together in good faith to peacefully protest in the face of hate they are often met with gaslighting, ridicule, violence, and sometimes even death: the killing of Heather Heyer at the protest in Charlottesville, Virginia (2018).
We understand that the entire world is currently navigating a pandemic, at one-point borders were globally shut down, medical infrastructures were stretched beyond capacity, people everywhere have had to adjust to a new way of living and the economic impact of these changes remains unforeseen. We also acknowledged that within the past decade we have made tremendous progress in the area of race relations and gender inequality, but we have also seen a tidal wave of resistance. In these uncertain times love, patience, understanding as well as open and ongoing dialogue are the only bridge to healing. For these reasons and more, we ask that you support the AAPI community in the most constructive and convenient way possible: demonstrating your support on social media, having those uncomfortable conversations at the dinner table to engage in understanding, and making a financial contribution, or attending a rally. Below is a list of events you can attend, speak out about, and share with your friends, family, and possibly colleagues:
Thursday, April 1st at 7:00PM – Coa Conversation: Support and Action For the AAPI Community

Join in on this therapist-led conversation where you can find support and get answers on ways to act against racism in the AAPI community and to provide support for those impacted by these injustices. *This is a virtual event*
Sunday, April 4th, 2021 at 12:30PM– NYC Stop Asian Hate Rally

12:30PM – Assembly at Foley Square
2:00PM – March at City Hall Park
2:15PM – March across Brooklyn Bridge Park
3:00PM – Assembly at Cadman Plaza
* Please wear a face mask when attending.
Tuesday, April 6th, 2021 at 7:00PM–  A Year of Asian Hate: Where Do We Go From Here?

Join the Asian American Federation and the Migrant Center for a discussion with community leaders about the factors that have contributed to the surge in attacks against AAPI's and tangible ways to create both immediate and long-term safety for the Asian community. *This is a virtual event*
Wednesday, April 7th, 2021at 5:30PM – Stop Asian Hate Virtual Summit

This is a donation-based event. The proceeds will benefit API Initiative's fresh food distribution efforts that occur every Friday at Bay Terraces Park for seniors in need. *This is a virtual event*
We have also compiled resources to help you act and help support the AAPI community.
Speak out if you witness a hate crime or incident.

If you happen to find yourself witnessing something, either speak out or actually intervene and defend the other person. While some witnesses have been recording these incidents, STOP AAPI Hate has tips for both those experiencing hate and those witnessing it, such as prioritizing safety first and trying to stay calm.
Report the hate crime or incident.

Hate crimes are underreported. Community leaders say reporting an incident you or someone else experienced or witnessed can help bring greater awareness and strengthens the chance a perpetrator will be prosecuted.
Over the last year, Stop AAPI Hate's reporting center – which you can submit to in multiple languages – has been tracking thousands of incidents across the U.S. There's also community sites like AAJC's Stand Against Hatred website, where you can share your experiences.
Donate

The Atlanta chapter of Asian Americans Advancing Justice has created a donation page aimed at supporting the victims and their families impacted by the shootings on March 16th.
GoFundMe has compiled a comprehensive list of verified donation pages on its platform to support the victims of anti-Asian hate crimes, provide safety resources to the AAPI community, and advance research into the increased violence. The site has also launched the AAPI Community Fund, which will provide grants to AAPI advocacy organizations across the nation.
This is The Law Offices of Marjory Cajoux and we are ready and committed to provide you best possible service and support in the areas of real estate, immigration, and personal injury. We hope you stay safe,