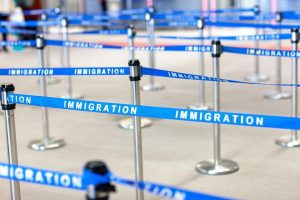 Immigration Suspended for 60 Days Amid COVID-19 Pandemic
Over the past three years, the Trump Administration has focused a great deal of effort on changing policies and regulations to push its agenda of limiting both legal and illegal immigration. Amid the widespread closures of schools and businesses in most states, the current administration has continued to effectively shut down immigration. Back in March, the State Department closed all consular offices abroad and suspended regular visa services at all embassies and consulates, except for the processing of visas in the H-2 programs, which includes temporary agricultural workers seen as essential amid the country's business closures.
Executive Order Temporarily Halts Some Immigration
In late April, Trump issued an executive order temporarily halting most immigration to the U.S. for 60 days. Trump gave an economic justification for the order, stating that he wanted Americans to have access to work, as millions have lost their jobs due to the COVID-19 pandemic. He said that blocking immigration would put Americans "first in line" for jobs when the country reopens. Trump further declared it "wrong" to replace American workers with new immigrant workers. Later, Trump attributed the need for the temporary immigration ban to protect Americans from entering the country and spreading the coronavirus, as well as conserve medical resources.
Despite his multiple justifications, the executive order is more limited in scope than the President initially announced. The executive order places a 60-day ban only on immigrants seeking permanent residency, or green cards. These immigrants include foreign nationals seeking employment-based green cards and relatives of non-citizen green card holders.
Executive Order Exempts Many Immigrants
However, the ban does not affect most workers entering the U.S. on temporary visas, including tourists and business visitors. Most employment-based green cards go to individuals who already are in the U.S., so the ban does not affect this group of immigrants. As a result, the ban will primarily affect family-based green cards, which mainly go to individuals outside the U.S. Nevertheless, U.S. citizens seeking to bring immediate relatives to the U.S. can continue to do so, despite the ban.
Essential workers also are not affected by the ban, including doctors, nurses, and healthcare professionals, and other workers applying for visas in the H-2 program. The ban also exempts EB-5 visa applicants, who invest large amounts of money in U.S. projects to create or retain jobs, and any other immigrants whose entry would be "in the national interest." Still, overall, the Migration Policy Institute estimates that the temporary ban could affect more than 52,000 green cards for immigrants newly arriving in the U.S.
As a practical matter, however, critics state that the executive order is not likely to impact immigration rates significantly. American embassies shut down and mostly stopped processing green cards in March, so the executive order is not a substantial change to the existing landscape of immigration. Similarly, the Trump Administration already invoked a 1944 law regarding infectious diseases to place a complete halt to asylum. It issued a previous order banning all recreational and tourist travel across the Mexican and Canadian borders, as well as from Europe and China. Essential travel and commercial travel have continued under this previous order.
Trump Administration to Reconsider Ban After 60 Days
The Trump Administration has announced its intent to consider extending the ban after it expires toward the end of June. Trump reportedly will examine the U.S. economic conditions at that time in determining whether to extend the prohibition.
According to recent reports, the Trump Administration is also pondering whether to place limits on guest workers, as the current ban largely exempts these individuals. Under specific consideration are the H-1B visas for highly skilled workers and H-2B visas for non-agricultural temporary workers. The H-1B visa program has been a constant source of criticism for the Trump Administration, which alleges that it displaces American workers and is replete with fraud. Other policy changes to the H-1B visa program have already significantly increased the denial rate of H-1B visa applications.
Call the Law Offices of Marjory Cajoux for Your Immigration Law Needs
We know how unsettling and overwhelming the continual changes to immigration policies and programs can be during this unprecedented time throughout the U.S. As a result, we are here to calm your concerns and answer your immigration-related questions. You can count on us to keep ahead of new developments in the field of immigration law and keep you informed.