"The success of every woman should be an inspiration to another. We're strongest when we cheer each other on." – Serena Williams
March is Women's History Month in America and International Women's Day around the world. During this time women are honored and recognized for the impact they've made throughout history. Women's History Month originally began in observance of International Women's Day which falls on March 8th annually.
The month of March was designated as Women's History Month after being petitioned by the National Women's History Project. Congress officially designated the month in 1987. Since 1988, U.S. presidents have issued annual proclamations designating the month of March as Women's History Month. International Women's Day is celebrated on the 8th of March around the world and it is a focal point in the movement for women's rights. We will be celebrating Women's History Month and are dedicating this special edition to women that have truly made history in our society and blazed a trail around the world. Women such as:
---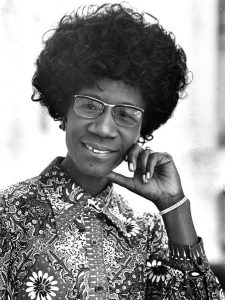 Shirley Chisolm (born November 30, 1924 – January 1, 2005) was born to West Indian parents in Brooklyn, New York. She went on to become a prominent politician, educator, and author.  In 1968, she became the first Black woman elected to the United States Congress, representing New York's 12th Congressional District for seven terms from 1969 to 1983. In the 1972 United States presidential election, she became the first Black candidate of a major party's nomination for the President of the United States, and the first woman to run for the Democratic Party's presidential nomination. In 1984, Chisolm and C. Delores Tucker co-founded the National Congress of Black Women. Chisolm's speech "For the Equal Rights Amendment", given in 1970, is listed as No. 91 in American Rhetoric's Top 100 speeches of the 20th Century.
---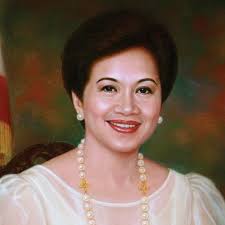 Corazon Aquino (born January 25, 1933 – August 1, 2009) popularly known as Cory Aquino was the first female president of the continent Asia – Philippines, becoming the first woman to hold that office. She was the first female president of the country and the only president with no political background. She served in office from February 25, 1986 – June 30, 1992. Corazon Aquino was the most prominent figure and the guiding light of the 1986 People Power Revolution, which ended the 20-year rule of President Ferdinand Marcos. Corazon Aquino is fondly remembered by most Filipinos as the "mother of the Philippine democracy" and the "housewife who led a revolution." She has been hailed by an American columnist Georgie Anne Geyer as a modern-day Joan of Arc.
---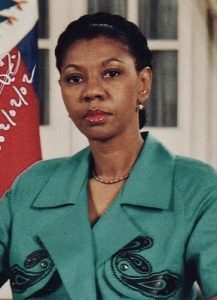 Ertha Pascal-Trouillot (born August 13, 1943) is the first female president in all of North America. She served as President of Haiti from March 13, 1990 – February 7, 1991, the first woman to assume that role. Prior to becoming President, Trouillot was the nation of Haiti's first female attorney after being awarded her degree in 1971. She steered Haiti through its first major test as the country stabilized and prepared for free democratic elections. President Ertha Pascal-Trouillot became a great model for Haitian girls and women. In 1986, Minister of Justice Francois Latortue appointed Mrs. Pascal- Trouillot to the Supreme Court, becoming the first female justice. She reopened schools because she believed that education was the most important tool for every student. She is an intelligent woman and who has exceeded all expectations.
---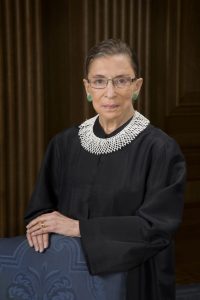 Ruth Bader Ginsburg also known as 'The Notorious RBG' (born March 15, 1933 – September 18, 2020), born and raised in Brooklyn, NY. She was an American lawyer who served as an associate justice of the Supreme Court of the U.S. from 1993 until her passing in September 2020. Ginsburg was the U.S. Supreme Court's second female justice as well as the first Jewish female justice. As a judge, Ginsburg presented a strong voice in favor of gender equality, the rights of workers as well as the separation of church and state. In 2002, Ginsburg was inducted into the National Women's Hall of Fame. She was named as one of the 100 Most Powerful Women (2009), one of Glamour magazine's Women of the Year in 2012, and one of Time's Magazine's 100 most influential people in 2015.
---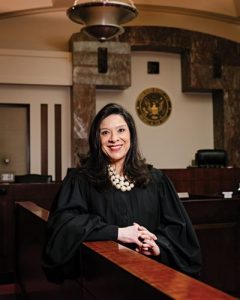 Esther Salas (born December 29, 1968) is a District Judge of the United States District Court of New Jersey. She previously served as United States Magistrate Judge of the same court from 2006 until her confirmation in 2011. Judge Salas is the first Hispanic woman to serve as a United States Magistrate judge and as United States District Judge in New Jersey. On July 19, 2020, an assailant targeted the Salas's family at their home where her only son Daniel, aged 20 was shot dead by a disgruntled defense lawyer. It was a tragic loss, but we are happy to share that Judge Esther Sala has returned to work after seven months. During an interview Good Morning America, she stated, "I know that Daniel would want me to represent all women and Latinas everywhere and come back and show that I am not deterred and I will be not be frightened or afraid to do what I love to do, which is be a United States District Court Judge." Her new mission is to protect judges and their families. Daniel's Law was passed in New Jersey, but she's not stopping there. She wants judges protected across the country.
To all the beautiful women out there, we are proud of you! Let's continue to take ownership of our talents and shine our corner of the world in ways that will benefit us all. Take the time this month to remember and appreciate all of the women in your lives that help mold you: a grandmother, mother, daughter, sister, relative, friend, caretaker, colleague, and beyond. Let's come together to celebrate our best progress made and the greatness to come.
This is The Law Offices of Marjory Cajoux and we affirm our readiness and commitment to provide you best possible service in the areas of Immigration Law, Real Estate and Personal Injury.